Louis Bouillot Perle de Vigne Grande Réserve Brut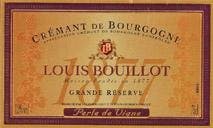 Flavors of vanilla, almond, toasted bread appear successively. The perfect balance between acidity and richness gives a good potential for aging. Long after taste, with a touch of honey and ginger bread, a local specialty.
Wine Spectatormedium-bodied bubbly, offering citrus, berry and earth notes with a chalky finish. Good intensity and balance, with a berry aftertaste.
Wine EnthusiastA ripe, fresh, appley wine, with attractive grapefruit accents. It is soft and crisp, with just a touch of softness to finish. Simple and great for as apéritif wine.